I called it my artist's retreat, to describe to others why I was going away all by myself.  I have always been one to juggle too many balls in the form of jobs, socializing, craft projects and learning new things. A few balls in particular had been dropped for too long, so I decided to set aside some time just for them. I began constructing an agenda of how I'd spend my time on my fantastic retreat: yoga practice, meditation, plenty of sleep, hikes and bike rides through the wilderness, and above all, making a lot of art.
I booked a cabin for the week leading up to the Summer Solstice. I was ready to get up early, tackle my art and get somewhere with my meditation and yoga practice. But my retreat had something else in store for me.
Two days in, the predetermined image of my "artist's retreat" began to crumble away in the face of my tired reality: there were some lazy and sporadic sun salutations, and meditation definitely took place while testing out my equanimity to the 800th mosquito bite of the day. And the art, well, the art I like to make is intentionally fed by my inner process, and guess who'd been too busy to do much inner processing in the past several months? I touched my materials twice, and spent the rest of the time daydreaming, journaling and rereading old entries. So much for finished products!
Apart from the obvious rejuvenation of sunshine, wild waters, bright moons, campfires, and barbequed veggies, there were some sneaky benefits of retreat that I hadn't seen coming. At one point, I decided to go for a nice forest walk, but a few minutes in, a gang of hornets ran me out of their neighbourhood and I retreated (haha, get it) to my cabin. If I had been with other people, I would have felt obligated to continue on the predetermined agenda of a forest walk. Was I wimping out? What goal was I trying to achieve with my walk, and what was the big deal if I gave up?
When I let go of my agenda and the idea of what my retreat should be, I realized that I could do whatever I felt like doing, exactly when I felt like doing it. There were no other people whose desires I needed to consider, no inconvenience I could possibly create by doing what I wanted. This was freedom!
Once I realized that, the whole experience of my retreat changed. It dawned on me (not for the first time in life, but this is clearly a lesson I need to relearn a few more times) that not every action has to have a purpose connected to productivity or achievement, or if it does, that the purpose isn't always what you thought it would be. I thought my retreat was going to be about physical vigour and artistic output, but it ended up being about meandering, free mental time, and self inquiry. Clearly that was the inner work that needed to be done, and it was only once I gave myself permission to follow my whims (within reason) that I was able to dig in, and for that I am grateful.
Liberty and lack of responsibility for anything except having your own experience: this is what retreats allow for. Let someone else set an agenda, to which you can say yes or no (and even change your mind at the last moment!). Let someone else cook and clean, too, while you're at it. Retreats open up a little bubble of space and time in which the purposes and goals are flexible, subject to change or even total rejection. What you do and what you learn may have everything or nothing to do with your expectations.
Is there a part of your life that needs a bubble of dedicated time and space? Cuz I've got a pretty sweet agenda of work, play, rest and reflection all lined up for you to dig into on the weekend of Sept 28-30. Come with Chris and I on Building Fires: A Fall Yoga Retreat to follow your whims and ours, get right into what it is that suits your needs, and put yourself first for a whole weekend. We'll be eating deliciously prepared food and soaking in the off-grid experience at the beautiful Harmony Dawn Retreat Centre, and you can take part in as much or as little of the yoga, meditation, nature walks and slacklining as you like.
See you on the mat (or if you come with, on the slackline too)!
Leslie
---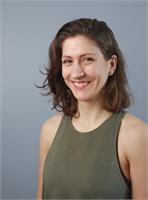 Leslie began to practice Yoga in 2007 and finally had the guts to pursue a 200-hour teacher training at Queen Street Yoga in 2015-2016. She initially came to yoga out of curiosity and soon discovered the deep peace of embodiment that the practice offered her. Off the mat, Leslie loves to spend her time moving in lots of ways other than asana: walking, cycling, rock-climbing, and her newest obsession of slack-lining.