Leslie is a lead teacher at Queen Street Yoga, and this year she will be acting as an assistant for our 200-hour Teacher Training Program starting in October 2019. Leslie has lots to say about the program, as she completed it in 2016. Something Leslie is passionate about is encouraging people to both meet their bodies where they are at, and be curious about their bodies' capacities for change.
At our first YTT info session back in April, someone asked how much physical practice we'd be doing over the training weekends, and whether it would be advanced or athletic practice. On a separate occasion, another regular student who is considering our program asked if we'd get into more complex poses, like eight angle pose during the training.
Some folks might feel a little intimidated by the prospect of intense group practice being a part of the teacher training process. Others are chomping at the bit to learn how to do more complex, demanding shapes. Looking at the list of applicants we've already received, I know some of them love to hulk out and feel the burn – they're the type to sweat it out in Strength & Flow. At the same time, we've got other participants who are more into Yoga for Dynamic Aging, and are passionate about the benefits of restorative yoga.
When it comes to movement of any kind, yoga asana included, what one person considers a warm-up, another will find challenging. Individuals who are ready to do push-ups for days might struggle with steadiness in standing-balancing poses. People with lots of flexibility may struggle to marshall strength, and those who feel muscle bound and tight can be challenged by simple forward folds.
As a way to help folks make decisions about what to try, we group our public classes into beginner-friendly and intermediate levels. But in the YTT program, each weekend we'll all practice together, all levels, all bodies, all abilities. There will be group practices of up to 90 minutes most weekends, sometimes more than once. There will be practices during which the teachers will offer complex, physically demanding poses.
Speaking from my own YTT experience in 2015, we once tried eka pada galavasana, or flying pigeon. Talk about intimidating! There was another practice lead by a guest teacher who suggested more vinyasas than any of us had probably ever done before. Even the most fiery among us had to sit some of them out!
If you've been to our classes, you also know that for those big, showy poses, we like to offer a range of options, alternatives, and a lot of permission to just rest and be with yourself, or even observe the class anytime things get intense. There are so many ways to move and experience your body, the poses, and the actions and components of each pose. If one way doesn't work, the instructor will have three other ways on the menu.
Not only does this approach benefit the individual practitioner directly, but practicing within a mixed-level group enriches your learning wherever you are situated. Our group practices will be a great opportunity for teachers-in-training to see the myriad variations that can be offered, and to develop a creative mindset for coming up with variations of their own. Odds are not very good you'll only ever teach folks with the same bodies and abilities as yourself, so in our training, you'll get a jump on beginning to understand what it's like to live and practice in other bodies.
At Queen Street Yoga, we put a priority on respecting and honouring the diversity of human bodies. Your individual experience comes first; the poses come second. And if you find yourself in the middle of a group practice with your head barely above the water, we would be delighted to throw you a lifebuoy, and swim alongside you to figure out the best alternative.
So, is our YTT program physically challenging? It sure can be – if that's what you're after. But it can also be as gentle as you choose, from moment to moment and from week to week. Plus, some of our group practice will be intentionally moderate or mellow.
Apart from our 10 weekends together, the training has a self-practice component consisting of class attendance and a home practice. You can tailor these aspects of training to your own abilities, preferences and goals, working and resting as you see fit. All ages, bodies and abilities are welcome to our studio, and that includes our Yoga Teacher Training.
Want to learn more about the training? Read about the program on our website, or come to our next information session on Thursday July 11th at 7:30pm. RSVP to let us know you are coming (send an email to info@queenstreetyoga.com) and you can come to the 6:00pm Basics class with Emma that day for free!
---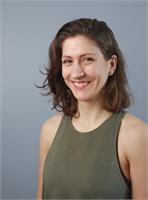 Leslie Stokman began to practice Yoga in 2007 and finally had the guts to pursue a 200-hour teacher training at Queen Street Yoga in 2015-2016. She initially came to yoga out of curiosity and soon discovered the deep peace of embodiment that the practice offered her. Off the mat, Leslie loves to spend her time moving in lots of ways other than asana: walking, cycling, rock-climbing, and her newest obsession of slack-lining.