The squeaky wheel gets the grease, right? Ever since my 200 hour YTT ended, I've been squeaking away about wanting another opportunity to learn in relationship with others, in community.
I remember how awesome it was to move, observe and discuss the intricacies of anatomy, philosophy and politics with a diverse group of people, and I miss that. I've kept on learning on my own, and while self inquiry and practice is important, it's just not the same thing, watching videos on my laptop and farting around on my mat at home.
Good news: with the announcement of the Queen Street Yoga Teacher's Immersion, Leena and Emma have just greased up this squeaky wheel big time, and now I'm swirling like a merry-go-round! I know what it's like to learn at QSY because I did my initial 200-hour training there, and what I experienced was excellent pedagogy, diverse and forward-looking perspectives, and outside experts brought in with intentionality and purpose. Beyond that, Leena and Emma are masterful at holding space, nurturing community and guiding both individual and group learning with consistent and clear support and care. The way they lead trainings with both wisdom and curiosity, experience and reflection is inspiring and makes for a true learning community.
This is a rather selfish letter because my preferred learning style is in person and in relationship: I quite literally want you to join up so that we can hang out, talk shop, and learn together. I'm so, so excited to make additional connections and deepen existing ones with local yoga teachers who are as passionate as I am about learning and reflecting. I get so much out of being together in the same room, interacting with the information and our bodies, and observing everyone else's learning process.
Co-learning (collaborative learning) appeared on my radar when I was in teacher's college, and I valued it highly as a classroom teacher, which is why I love the way that QSY structures their trainings. I want that collaborative community to process all that I'm learning. I want that dedicated time and space to talk things out, put new information into context, practice new skills, and get feedback from my peers. Learning about movement, anatomy, trauma, the nervous system can be enlightening, scary, challenging, evolutionary. Why go it alone when we could go together?
Come, share the journey with me!
Peace, Leslie
P.S. I do teach/work at QSY, but no one is paying me for these thoughts. I genuinely believe in this program and I legitimately want awesome people to learn alongside. I'm shouting my enthusiasm from the rooftop, and hoping that it's contagious.
---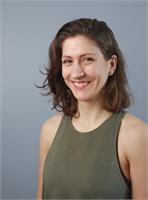 Leslie Stokman began to practice Yoga in 2007 and finally had the guts to pursue a 200-hour teacher training at Queen Street Yoga in 2015-2016. She initially came to yoga out of curiosity and soon discovered the deep peace of embodiment that the practice offered her. Off the mat, Leslie loves to spend her time moving in lots of ways other than asana: walking, cycling, rock-climbing, and her newest obsession of slack-lining.